Product Detail
Product Tags
MKD-aaabbbbSEK is 0.5A18W AC DC switching wall mount power supply with high quality and low cost. It meets KC, KCC. AC pin it is KC version for Korea market.
Features
Wide range of AC input voltage, Wall Mount Adaptor
Input Voltage: 100 ~ 240 VAC; 50/60 Hz
Load Power: 16.25W ~ 18.0W
Load Regulation: 3% ~ 6% by model.
Max. Power: 18 W
Operating Temperature: 0°C ~ 40°C
We provide a comprehensive selection of Level 6 power adapters that are flexible in customization based on clients' demands. DILITHINK's manufacturing factories have been certified with UL, FCC,PSE, CCC, CE, GS UKCA, EAC, SAA, KC and S-Mark certifications highlighting reliable production and quality controls with a capacity of 400k/month. Contact us today and receive a competitive price quotation - welcome quantity OEM/ODM customers.
| | | | |
| --- | --- | --- | --- |
| Model | Rated Output Voltage (VDC) | Rated Output Current (A) | Max. Rated Output Power (W) |
| MKD-aaabbbbSEK | 3-48VDC | 0-3.1A | 18W |
(aaa=indicates rated output voltage 3.0-48.0VDC , bbbb= indicates rated output current 0.001-3.10A)
The power adapter model MKD-aaabbbbSEK, the "SEK" it is KC version.
| | | | |
| --- | --- | --- | --- |
| Model | Output Voltage (A) | Output Current (A) | Power (W) |
| MKD-0652500SEK | 6.50 | 2.50 | 16.25 |
| MKD-0951800SEK | 9.50 | 1.80 | 17.10 |
| MKD-1801000SEK | 18.00 | 1.00 | 18.00 |
| MKD-3600500SEK | 36.00 | 0.50 | 18.00 |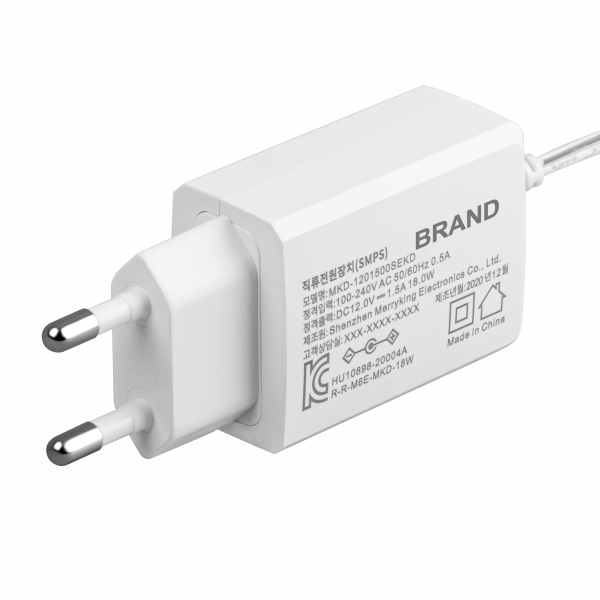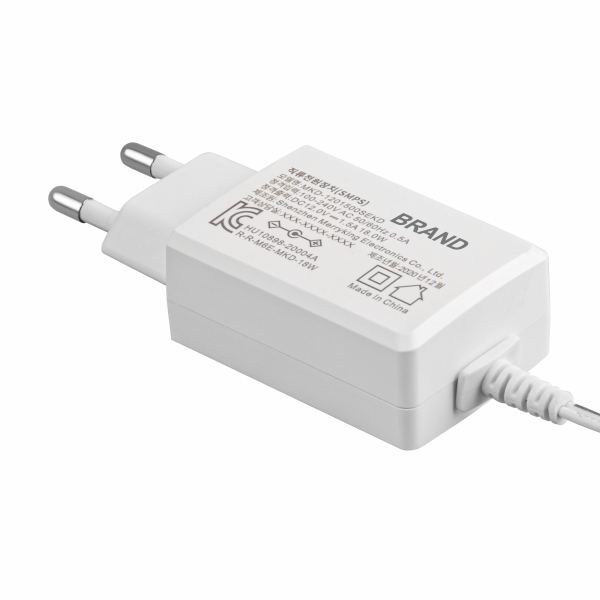 5.5V 2.5A/ 9.5V 1.8A/ 18V 1A/ 36V 0.5A ac adapter charger detail: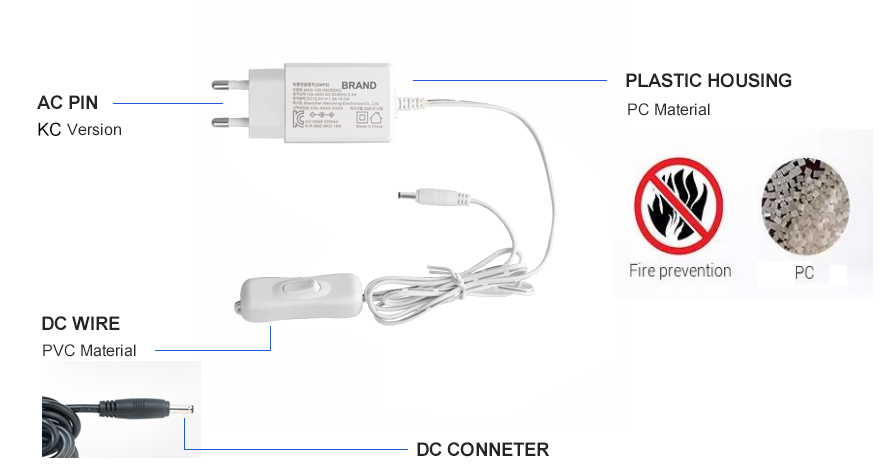 1. Our customers do not have any specific needs, are usually using the client's own logo. If the client has a request, it can also be used for the client's real needs.
2. There are so many products that you can color at your customer's request, while white and black are more common selections.
3. The adapter body and cable are all fire-resistant materials and meet the required fire level.
4. A special-purpose adapter for the customer can be designed and tested to meet their needs to prove the efficacy of the adapter.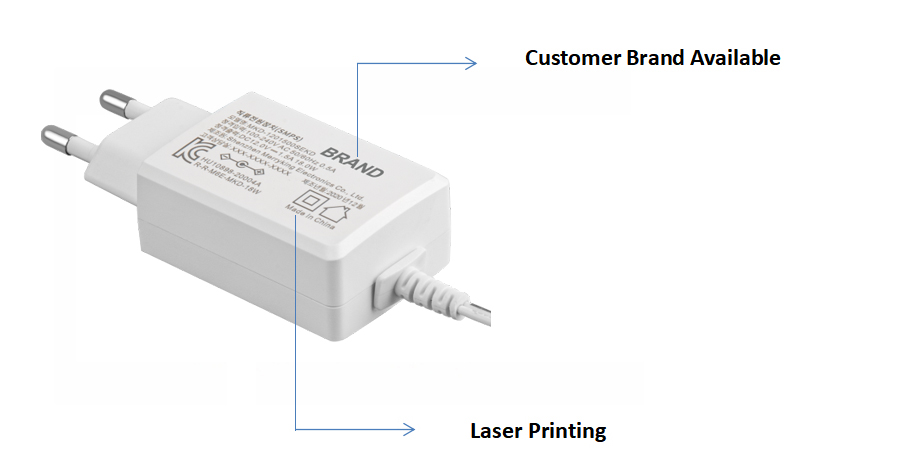 1.The power adapter that is exported to South Korea must have KC certification. KC authentication is different from others. KC must check the product model. In other words, the label on the adapter must match the KC certification to be qualified. Each product in the KC catalog only accommodates up to 100 models. The number on a certification logo and product model numbers are one by one.
2. The print on the product is Laser printing, adding the importer phone number to the adapter product is mandatory.
| | | |
| --- | --- | --- |
| Area | Cert Name | Cert Status |
| South Korea | KC | Yes |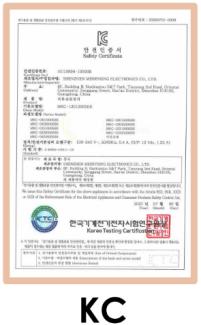 Environment : ROHS
Efficiency : /
Standard: Our ac dc power adapter charger has applied to meet safety regulations in different industries, the adaptor standards cover as bellow industry , IEC62368,IEC61558,IEC60065,IEC60335 and LED class 61347 ect .
DC Wire:
"Fire-proof level : VW-1 We have the VW-1 test report & test Vido , please send us email when you need them."
DC Connecter:
Both have the Straight type and right angle. You can choose the size of them.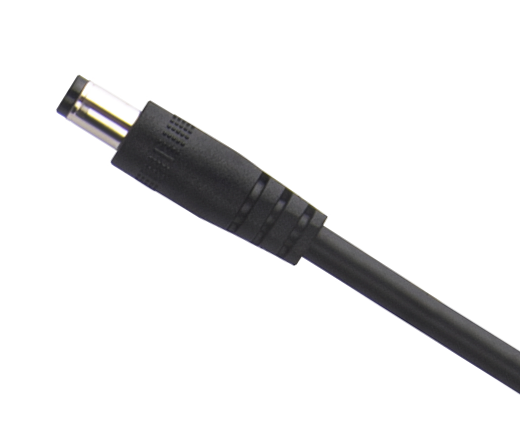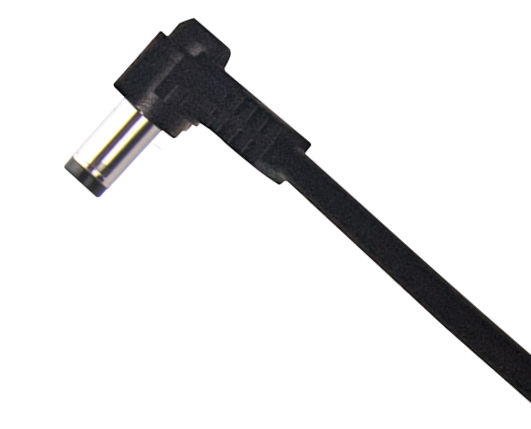 Our general packaging is white box, 1PC ac dc power adapter charger in a white box , 100 boxes in a cartont.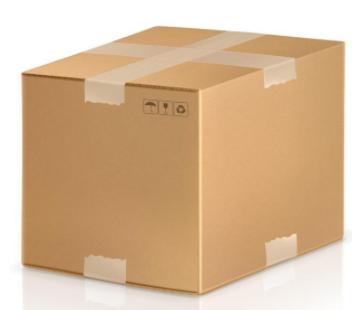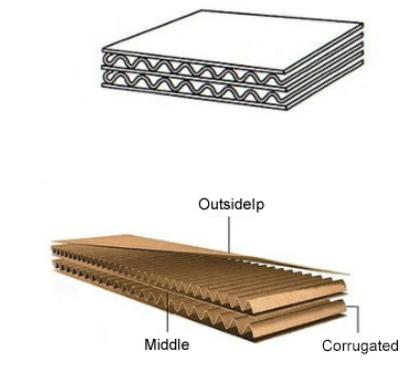 The carton box materials can meet international standards, and enough to keep the safety of the product during transportation.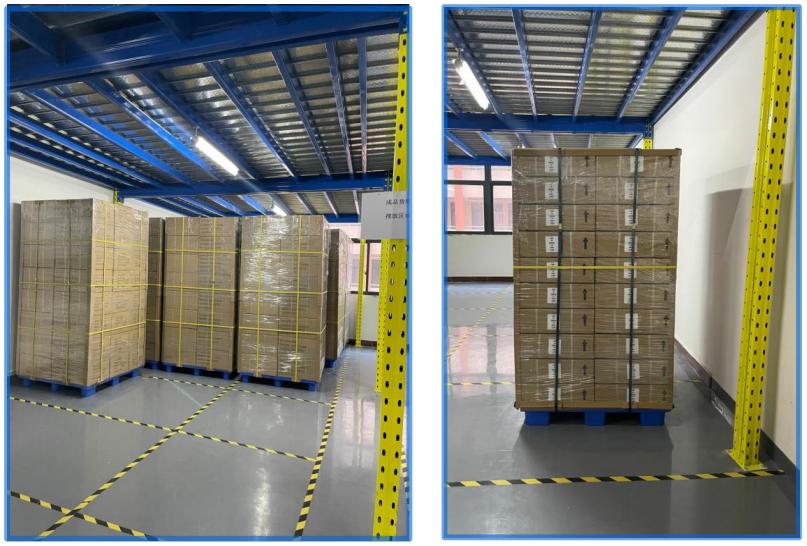 The products are stored in the warehouse.
We have a professional warehouse management SOP to ensure the safety of the storage of the goods, as well as the storage location of the goods, which is convenient for arranging shipments.
Mixed shipments of containers, including our adapters, are accepted for shipment, and we can arrange to ship the entire container to other suppliers. Alternatively, your other supplier's products can be shipped to our factory, where they will be assembled together into a full container shipment and then shipped to you.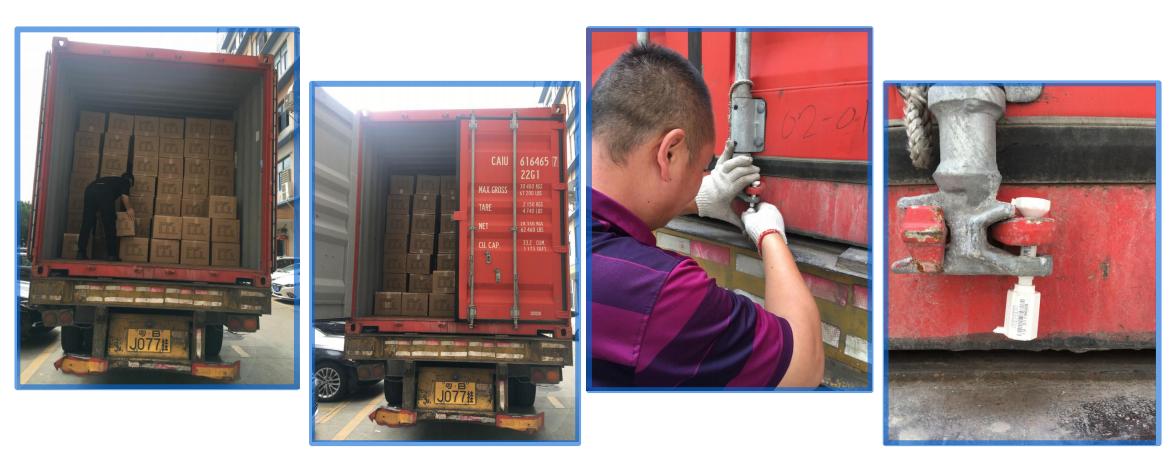 * 16 years rich experience working with famous companies.
* 22 days fast delivery time. for urgent need
* The non-performing rate is less than 0.2%
* Product range 6W ~ 360W, with UL, FCC,PSE, CCC, CE, GS UKCA, EAC, SAA, KC and S-Mark certifications.
Vibration:
10 to 300Hz sweep at a constant acceleration of 1.0G(Breadth: 3.5mm) for 1Hour for "each of the perpendicular axes X, Y, Z"
---
---