At 1am on October 19th, 2021, Apple held an event to officially announce the Macbook PRO 2021 with M1 PRO/M1 MAX processor, which is the first Macbook PRO with USB PD3.1 fast charging. Apple with a new 140W USB-C and cable they are the USB PD3.1 new standard.
MacBook Pro
At this press conference, Apple released a 14 inch and 16 inch Macbook Pro, and they with two new 5nm processors for the powerful performance of Macbook Pro 2021, respectively M1 Pro and M1 MAX.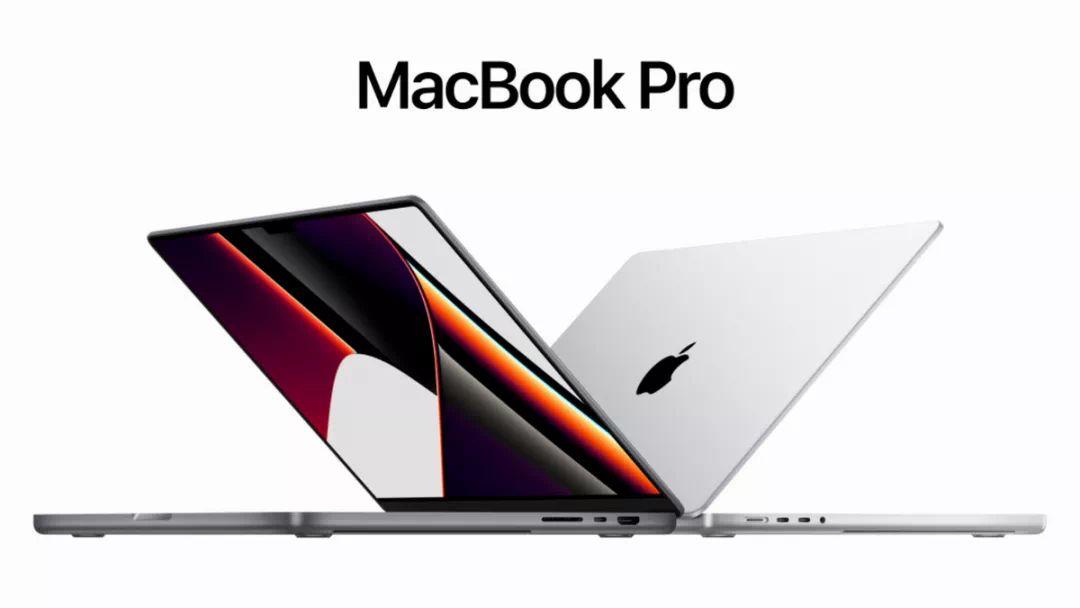 The 14-inch MacBook Pro has two versions, both with M1 Pro chips; there are three versions of the 16-inch MacBook Pro, two with Pro chips and one with M1 MAX chips.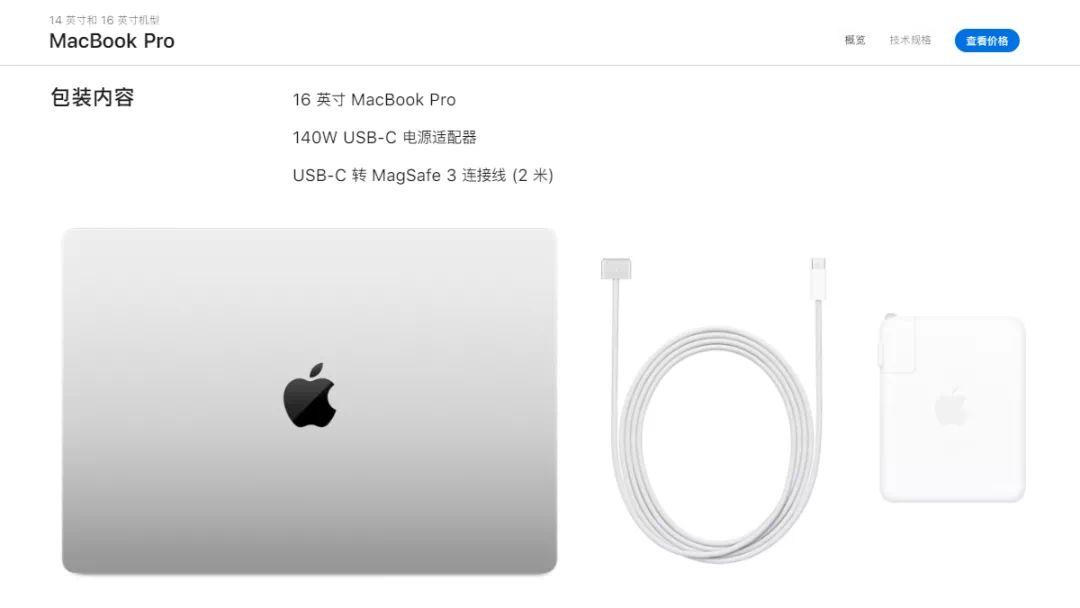 The Macbook Pro 2021 16-inch with a new 140W USB-C charger, which is designed same Apple's USB-C series of chargers, but is rectangular instead of square.
The Macbook Pro 2021 with a new 67W USB-C charger for the 14-inch low model and a 96W USB-C charger for the 14-inch high model. All models with a 2-meter MagSafe 3 magnetic cable with USB-C.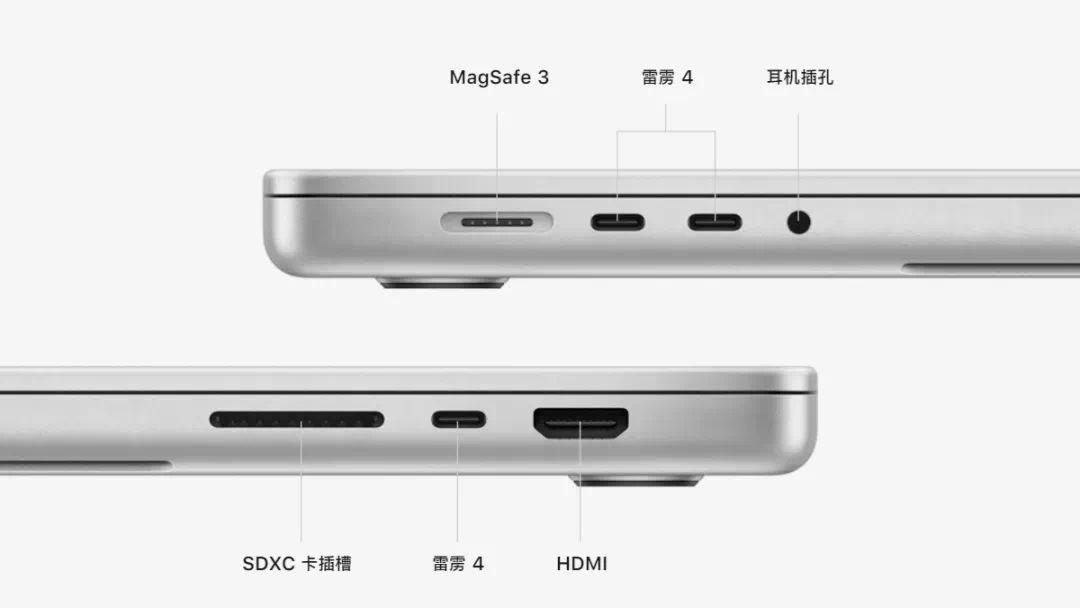 M1 Pro/M1 MAX processor has built-in Thunder controller, and Macbook Pro 2021 has three fully functional Thunder 4 ports in the physical form of USB-C, all of which support 40Gbps data transmission and 6K@60Hz video transmission. In addition, it has HDMI video output, SDXC card reader and 3.5mm headset interface.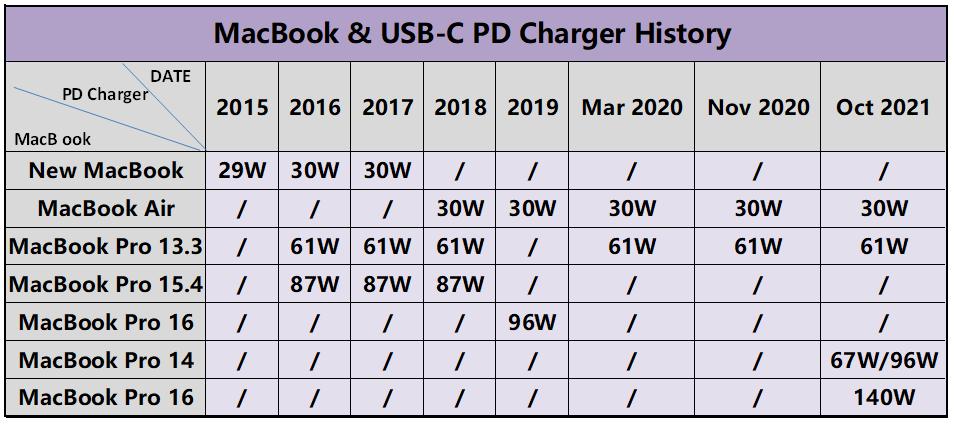 There is a list of MacBook power adapter, Apple's standard quick charge of the first new MacBook is 29W, and then launched MacBook products with power adapter of 30W, 61W, 87W, 96W and so on.
In 2021, with the release of Macbook Pro 2021, Apple laptops will fully enter the 140W fast charging era, and it is expected to become the world's first manufacturer of USB PD3.1 fast charging standard laptop.
It can be seen that the larger size of the notebook, the higher level, the better the performance, and the higher power consumption. Therefore, Apple provides fast charging appliances with different power gears for MacBook notebooks of different sizes and levels.
Apple comes standard with a 140W USB-C power adapter for the 16-inch MacBook Pro, the world's first power adapter based on the USB PD3.1 fast charging standard. The new MacBook Pro is also likely to support the new USB PD3.1 fast charging technology.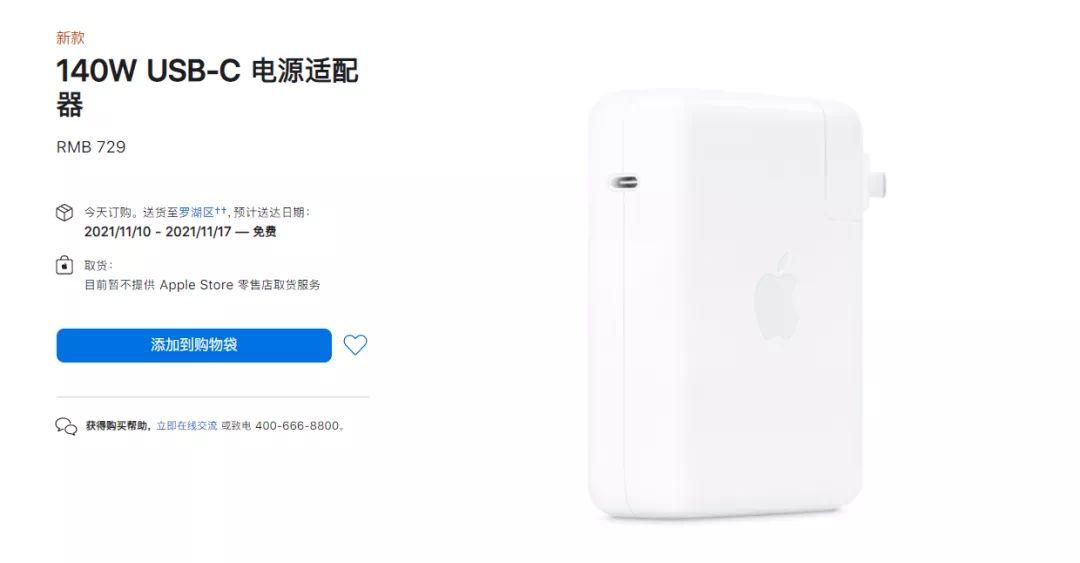 Apple 140W USB-C charger is the world's first USB PD3.1 fast power adapter, mainly because Apple as a core member of USB-IF Association, has been committed to promoting the implementation and development of USB PD fast charging technology since the release of the first new MacBook supporting USB PD fast charging in 2015. At present, Apple has dozens of pens, tablets, mobile phones and other products that support USB PD quick charging.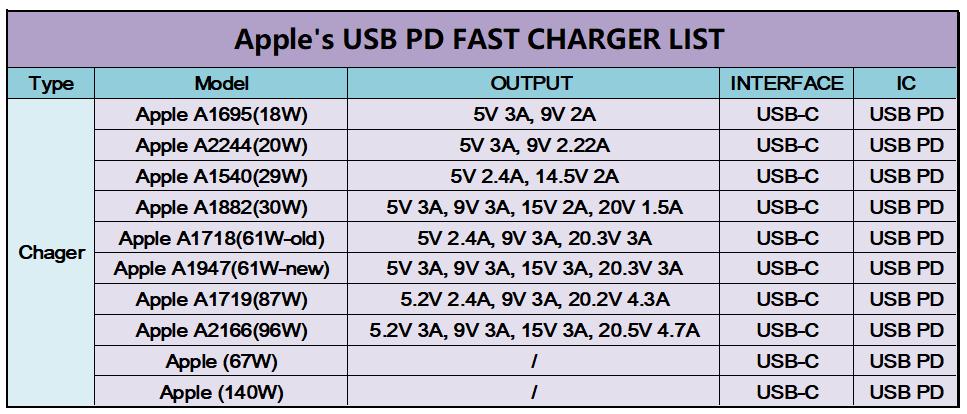 Apple already has 10 USB-C fast ac dc adapter chargers, of which only 18W and 20W are for i phones and i pads. The other eight types for MacBooks. The 16-inch MacBook Pro 2021 with 140W USB C PD ac dc power adapter fast charge for the first time.
USB PD3.1 cable 
The MacBook released by Apple supports both MagSafe 3 and USB-C interfaces for charging.
As early 2006, the MacBook with a T-shaped MagSafe 1 magnetic charging interface, and in 2010, it was changed to an L-shaped MagSafe 2. In the iMac released in April this year, Apple also adopted a multi-functional magnetic power supply interface.
The 16-inch MacBook Pro with a 140W USB-C ac dc power adapter charger, and also with a 2-meter USB-C to MagSafe 3 charging cable. This is the first cable in the industry that supports USB PD3.1 fast charging. It has been listed on the Apple Store separately, the retail price is 340RMB. Based on the MagSafe 3 cable, the 16-inch MacBook Pro can achieve a maximum charging power of 140W.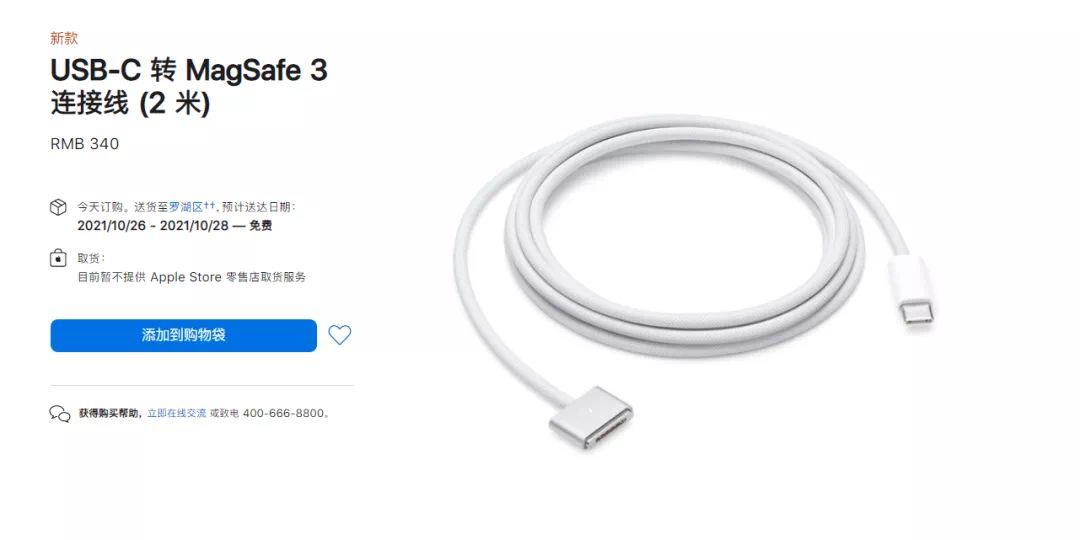 However, it should be noted that since Apple and the industry have not publicly released the USB-C to USB-C cable with the USB PD3.1 fast charging standard, whether the 16-inch MacBook Pro can achieve 140W fast charging through the USB-C interface? It's not clear yet.
At present, USB-IF has announced the USB Type-C 2.1 cable standard and announced a new certified USB Type-C cable rated power logo. The certified USB Type-C cable will display the logo, supporting the recently released 60W or 240W as defined by the USB Power Delivery (USB PD) 3.1 specification.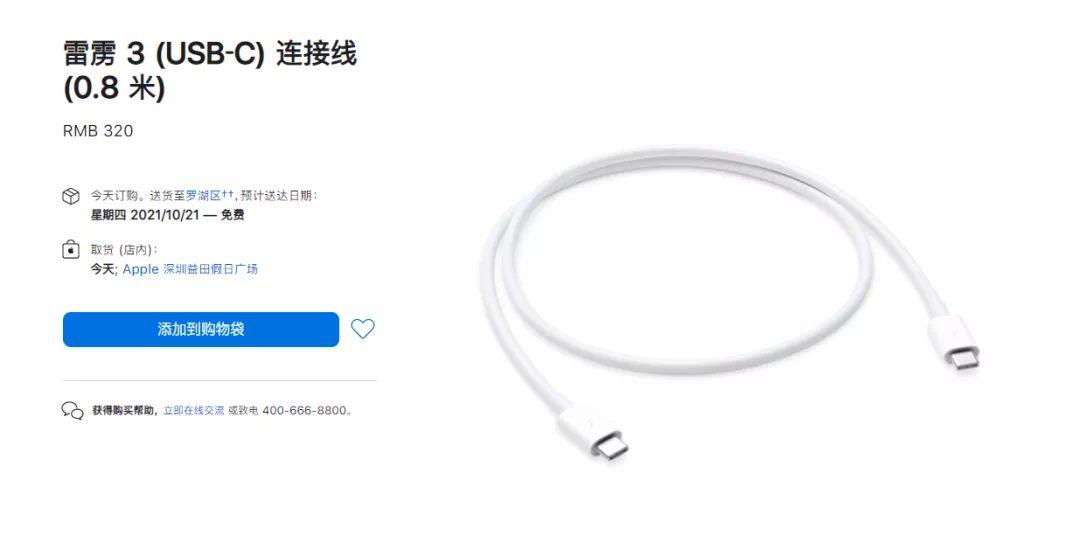 A few years ago, Apple introduced a 0.8 meter USB-C Thunderbolt 3 cable on its website. Not only supports up to 40 Gbps data transmission, but also can achieve up to 100W charging power.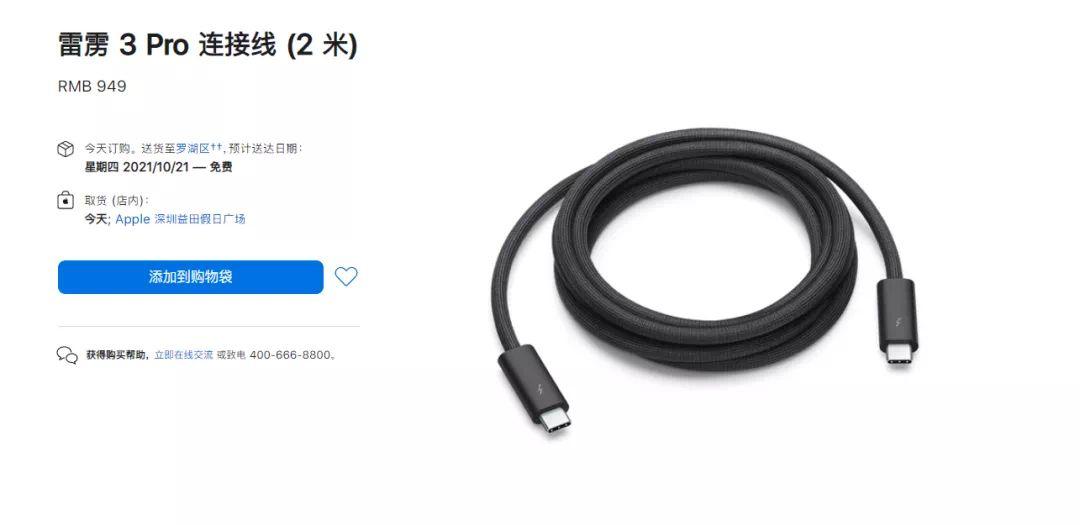 Apple's 2-meter gimli 3 Pro cable is a black braided design that supports up to 40Gb/s data transfer at the li 3 connector, 10Gb/s USB 3.1 second generation data transfer, DisplayPort Video Output (HBR3), And up to 100W of charging capacity. The material inside the disassembly cable is really solid.
USB PD3.1 is coming 
The USB-IF Association just released the USB Type-C cable and interface standard V2.1 version in May 2021, and the USB PD3.1 Fast power supply charger standard was officially released, which can support the maximum 240W ac dc power adapter charger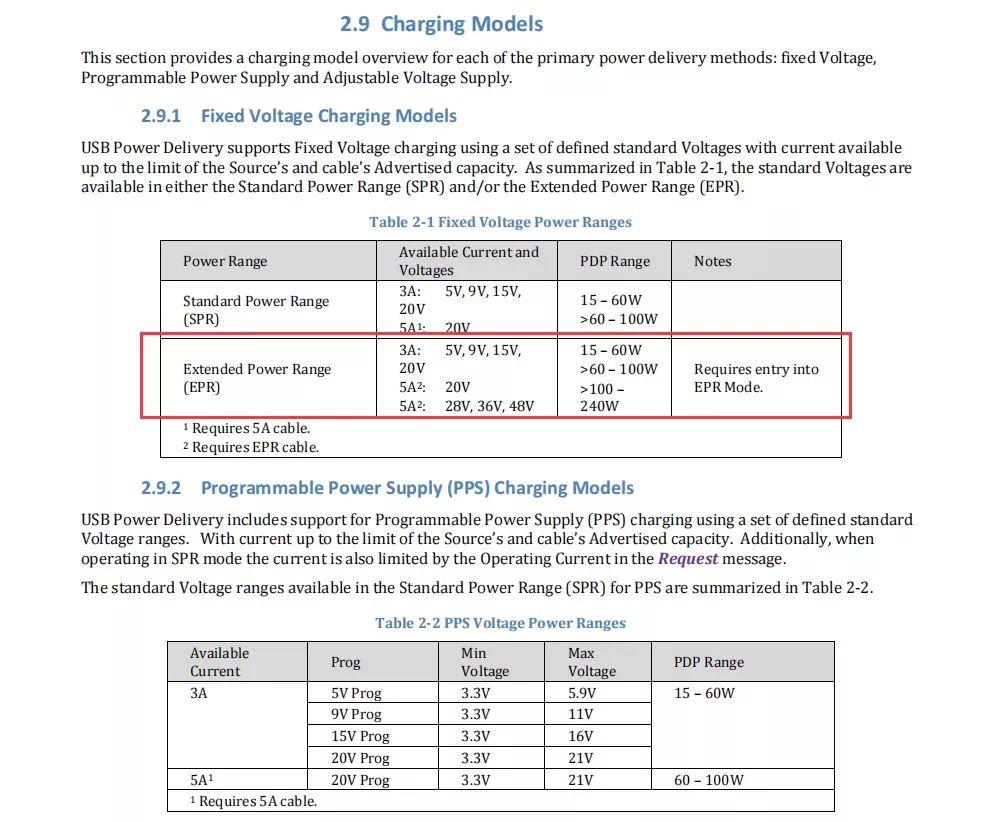 In the new USB PD3.1 fast power adapter charger standard, in addition to classifying USB PD3.0 into the standard power range (SPR for short), three fixed voltage levels (EPR for short) of 28V, 36V and 48V and three adjustable voltage levels (AVS for short) are added, but the maximum output current still at 5A.
It can be seen that the latest 140W USB-C charger released by Apple will support the EPR fast charging voltage in the new standard of 28V, and achieve 28V/5A 140W output power.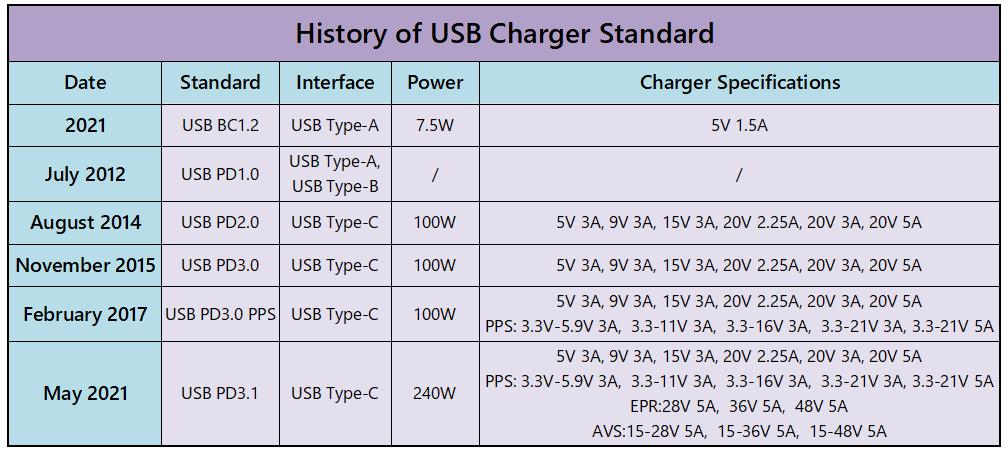 We have compiled a history of the the USB adapter charging standard, hope can help to you know the understand the changes in various stages.
Why does Apple vigorously promote USB PD3.1 fast charging
As usual, if the MacBook Pro 2021 wants to achieve 140W charging power, it can be equipped with a charger with its own MagSafe 3 cable as standard a few years ago. Why use the 140W USB-C fast charging source + MagSafe 3 cable this time?
That's exactly where Apple stands in the USB-IF Association. The full name of USB-IF is the USB Implementers Forum. It was established in 1995 and is headquartered in the United States. It was jointly created by Apple, HP, Intel, Microsoft, Renesas, STMicroelectronics, TI Texas Instruments and other companies.

It can be seen that Apple is a core member of the USB-IF Association and is also obliged to fulfill the mission of the USB-IF Association. The mission of the USB-IF Association is to provide a standard and unified transmission interface specification to make the connection and transmission between the computer and peripheral equipment easy and convenient, eliminating the inconvenience of using external cards or switches.
Under the USB PD3.0 standard, due to the limitations of terminals and cables, the transmission current of USB-C is limited to 5A, the voltage of USB PD3.0 is 20V, and the power of 100W can only meet the charging needs of thin and light notebooks, which has been limited Many high-power usage scenarios. Judging from the current market feedback, the same is true for gaming laptops with higher performance that still use the traditional DC charging interface to achieve higher power charging.
Obviously, this is not what USB-IF wants.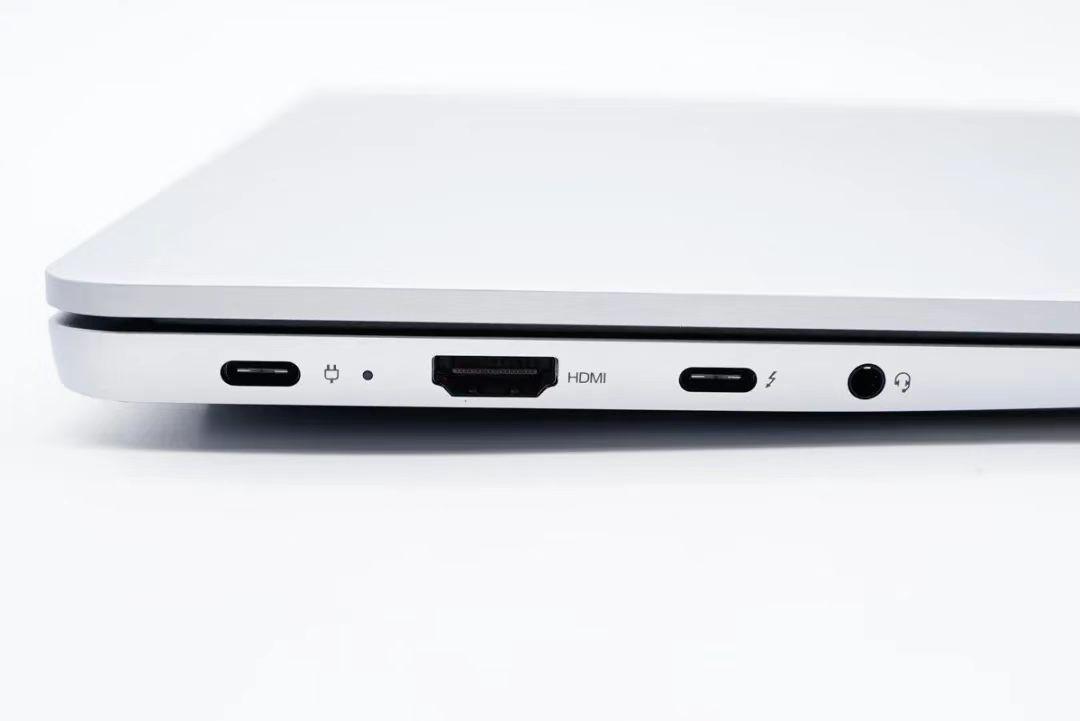 USB PD3.1 can provide a maximum charging power of 240W by extending the voltage to 48V and the current 5A unchanged, which covers almost all high-performance independent graphics game books, mobile workstations and some desktop power supplies, and will further improve USB PD. The popularity of fast charging standards in the consumer power supply field, replacing traditional bulky power adapters with advanced USB PD3.1 adapters.
It is understood that the newly added 28V, 36V and 48V voltages correspond to the applications of 6 batteries, 8 batteries and 10 batteries respectively. The USB PD fast charging standard has expanded many new application fields, including computers, servers, motor drives and communication power supplies, etc., and truly realizes PD fast charging for everything.
The final summary
Apple's MacBook Pro 2021 release is epoch-making, and its impact, at least in the area of charging, is extraordinary. Just as Apple released the first new MacBook that supports USB PD fast charging seven years ago, it may not be understood by everyone at the beginning, but time has given the best answer, and high-power fast charging is the future.
When the development of the USB PD3.0 fast charging standard encountered a bottleneck, as a core member of the USB-IF Association, Apple once again took the lead, launching a 140W fast charging charger that supports the USB PD3.1 standard, for the future of the fast charging source market indicate the direction of development.
The 2021 16-inch MacBook Pro has announced the USB PD3.1 fast charging accessory, which is a good start for flagship notebooks to support universal fast charging. Of course, the future is also full of opportunities and challenges. After the current output voltage is increased to 28V, the entire charging ecology will also bring changes. Finally, let's embrace change and look to the future.
At this time, if you want to know about the factory that produces 140W fast chargers, please feel free to consult us.
---
Post time: Mar-01-2022